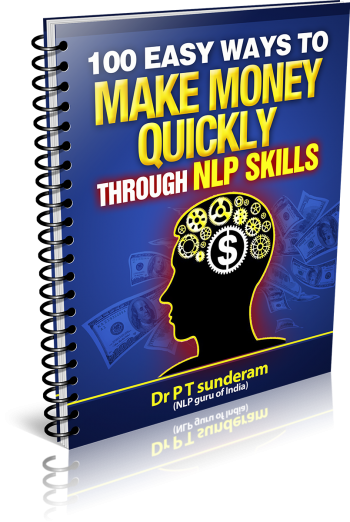 HURRY THIS PAGE WILL NOT BE
AVAILABLE FOR LONG …
100 easy ways to make money quickly through nlp skills from home.
" Dr P T sunderam –NLP Guru of India, is the first NLP author and NLP trainer of India from 1998 on words. DR sunderam is well know for his NLP application pioneer of India. He has applied NLP systems first to prisoners of India".
He replicates the same models for Corporate Training at professional levels and High performance coaching at personal level.
Registration on Early decider discount.
If you are interested in attending the next program, click the registration link.
I do NLP Application - Corporate Training/School Teachers Training
I belong to 1st batch of Dr Richard bandler in 1997 As ex head OF BHEL training( L&D) division, I applied NLP concepts for the last 20 years for Engineers recruitment , Employee Training,& Employees counselling issues. and 5 schools of BHEL campus was reporting to me, I apply NLP for students career guidance and mentoring of school teachers.

I Integrated psychometric tools ( MBTI/Disc/Firob/NLP/Enneagram/EQ) for training need identification into "Managerial excellence" and " Leadership" training program/school mentoring system.
I am trained ACC (associated certified coach )by International coach federation (ICF (USA) AS a life coach I improved the performance of various executives ,who were stuck up for various reason on their career fronts in Bhel and other public sectors in India. , before promotion i carried out a 360degree feedback on few top man agent officers as part of assessment team
I mentor the youth of the globe ( clinic /skype)
I have applied nlp for prisoners sleeping disorders in central jail, taught mentoring to 85k employees,, i share all my nlp cases through 500 nlp articles, 350 nlp you tube videos, 150 nlp podcast ( English, Hindi ,Tamil and Telugu). I am the first Indian NLP author from 2003 onwards, authored NLP books in 3 languages, CEO of NLP training academy conducted 34 batches of NLP Practitioner certification courses .has a NLP coaching clinic at omr Chennai where we work with " one to one" clients for career guidance of students, parenting and relationship issue on face to face at our clinic, through online ( whats app )throughout the globe. I received PhD(NLP)for my thesis work
Let me help you overshoot your goals in the right ways.