What you need to know about life coaching
We are currently living in a fast paced society full of technology driven careers and devices that have made human interaction almost impossible to sustain. There are too many pressures and stressors coming in from all aspects of life for any one person to be able to manage them on their own. This is where life coaching and the services of a life coach comes in. life coaching helps you identify aspects of your life that need improvement and lays the foundation for the work on those troubling aspects to begin. The following are some of the things about life coaching that you should know:
What is life coaching?
Life coaching is inherently different from consulting, mentoring and counseling. These are terms that you may have come across from time to time in your studies or even in the course of your work. Life coaching is a process that is aimed at helping you achieve a personal project that you may have in mind. For instance, you might want to have a more successful business that is serving more customers than it is currently doing at the moment. Life coaching will help you identify the obstacles in your way and what you can start doing to eliminate them, so that you can achieve your goal.
Why do you need life coaching?
This is a valid question that many people might feel compelled to ask. The truth of the matter is that we are all deficient in one or more aspects of our lives. Life coaching will help you plug many of the holes in your character, helping you to be a better person, both in your professional and personal life. By being better able to manage the stresses of a personal and professional life, you will be empowered to do much more than you thought was possible. Life coaching is important if you are interested in self improvement.
When do you require life coaching?
You will know that you need life coaching when you are about to chart a new career course, or when you suddenly realize that you are not capable of managing your time properly. When you suddenly realize that you do not have a lot of control over your life, this will be the right moment for some life coaching, so that you can regain control over your time and over your life.
Basically everyone who is alive and breathing will need life coaching at one point or the other. Students in college about to get gainful employment will need life coaching to set their priorities in order. The same applies to executives who are about to take their companies on a new course, or those who are about to retire and start a new journey.
Where can you get life coaching?
Life coaching from Dr. Sunderam (who is an iNLP coach) will greatly impact your life and set you on a new path of discovery and accomplishment. It is now very easy to get a life coach on the internet, meaning that you do not have to leave the safety and comfort of your own home.
How to assess the benefits of Life coaching ?
Cost of not achieving the goals( hrs) (16hrs/day)————$16000
Coat paid for mentor (hrs)—————————————$1000
Beinift of life coaching——————————————–$15000
How is life coaching carried out
Life coaching is mainly carried out online through applications such as Skype, or whats app video ,through the mobile phone. This means that you do not have to travel halfway across the country in order to get a session with your life coach, which will save a lot of time and money and be highly convenient for you. life coaching is an important aspect of your professional and personal life.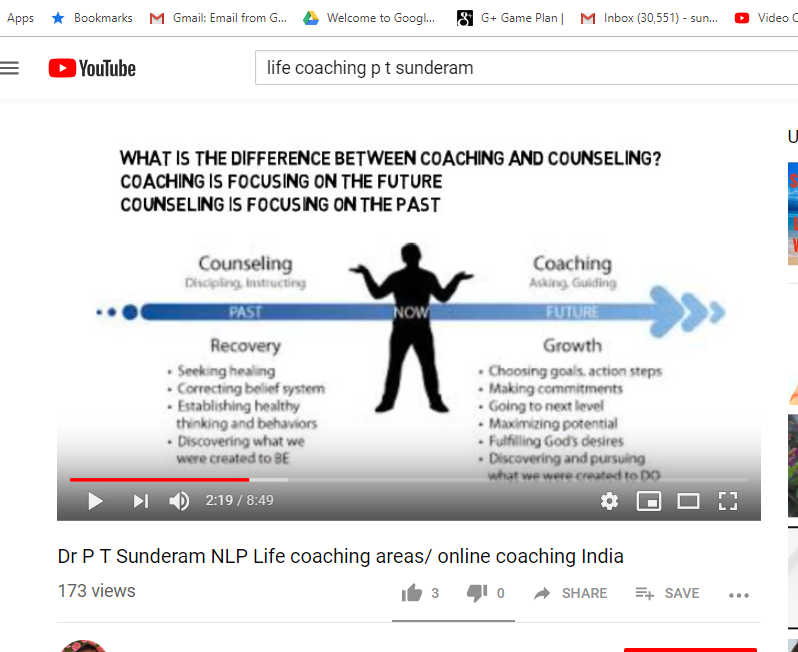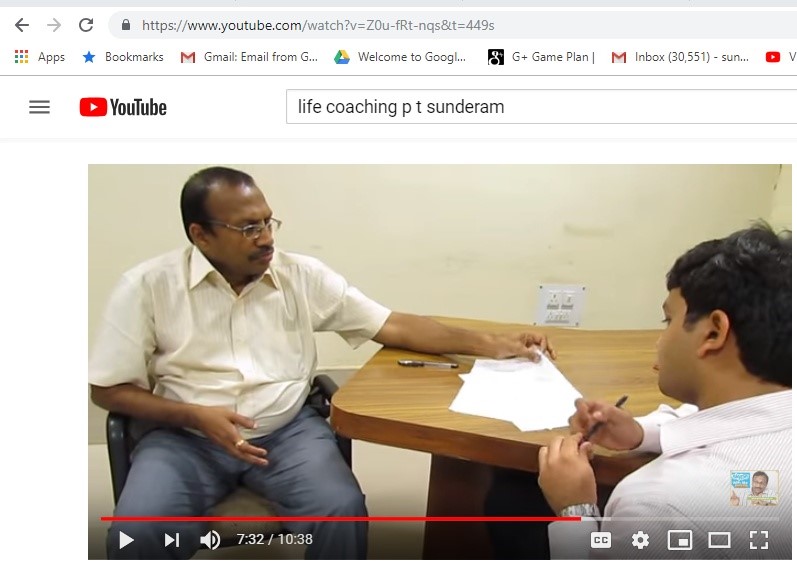 ( For life coaching contact Dr P T Sunderam who is an NLP guru of inida, and also an ACC (ICF) international coach federation (USA) Ex GM of Training Diviosn OF BHEL Inida) drsuntrg@gmail.com call 9640000054)